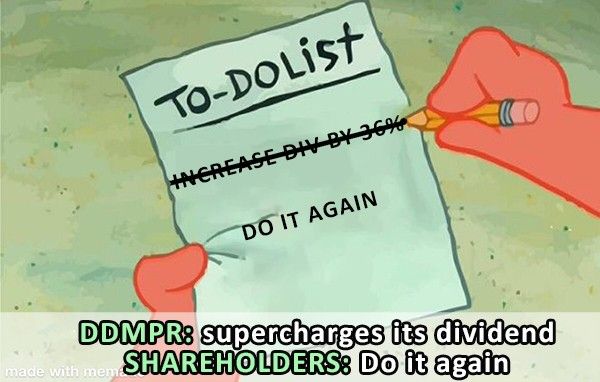 Commentary on actions: the new standard of DDMP
DDMP [DDMPR 1.77], the REIT led by Injap Sia, a subsidiary of Double Dragon [DD 10.24 1.39%], declared a cash dividend P0.0277780 / share for shareholders of record on August 31, payable on September 13, 2021. Using the current DDMPR share price, the second quarter annualized dividend gives DDMPR an estimated return by 6.28%.
Based on the IPO price P2.25 / share, DDMPR's estimated yield is 4.94%. The Q2 dividend is 38% higher than the Q1 dividend, itself 1.7% lower than the Q4 / 20 dividend. Mr Sia reportedly said, "DDMP REIT has already started to reap the benefits of tax incentives under the Philippine REIT Act, resulting in a 37.95% increase in dividends paid quarter over quarter." DDMPR said its second quarter net income was up 359% year-on-year to P1.84 billion, and this press release from DD indicates that DDMPR's total occupancy reached 97.7% in the second quarter.
MB RESULT
The quarterly report has yet to be released, so we don't have a very good idea of ​​what is driving this massive change in fortunes. The first quarter press release stated that the DDMPR properties were 97.2% leased, so I doubt that an extra 0.5% would translate to a higher dividend of 37%. I could be wrong, however, but for my understanding of how REITs work and how to gauge DDMPR's potential growth against what its peers AREIT [AREIT 36.65 0.81%] and Filinvest REIT [FILRT 7.40 3.35%] to do, I will examine in detail what DDMPR did to achieve this result. Whether the increase in income comes from the metaphorical boot removed from DDMPR's portfolio, or whether it comes from something constructive that DDMPR itself has done to raise rents, this kind of information will be very important in determining whether the new income level is something we can think of as "the new normal" for DDMPR.
If this is a new kind of normal situation, then what makes it interesting is that the price / return combination of DDMPR is no longer in line with that of AREIT. If we further consider AREIT as the standard against which to measure, we would expect DDMPR's stock price to rise to bring its new estimated return of over 6% to closer to the estimated return of nearly 5% AREIT.
If AREIT isn't the norm, then we might expect the AREIT stock price to drop a bit (and return to rise) to align more with its peers. It will be interesting to see if the price of DDMPR and FILRT goes up to look like the performance and price compared to AREIT's AFFO, or if AREIT floats to look like DDMPR and FILRT. My feeling is the first, but it will be necessary to see. I'm new to the analysis of the REIT sector at this level, so I take everything into account and try to make sense of it all, just like everyone else!
–
Merkado Barkada is a free daily newsletter on PES, investing and doing business in the Philippines. You can sign up for the newsletter or follow on Twitter to receive full daily updates.