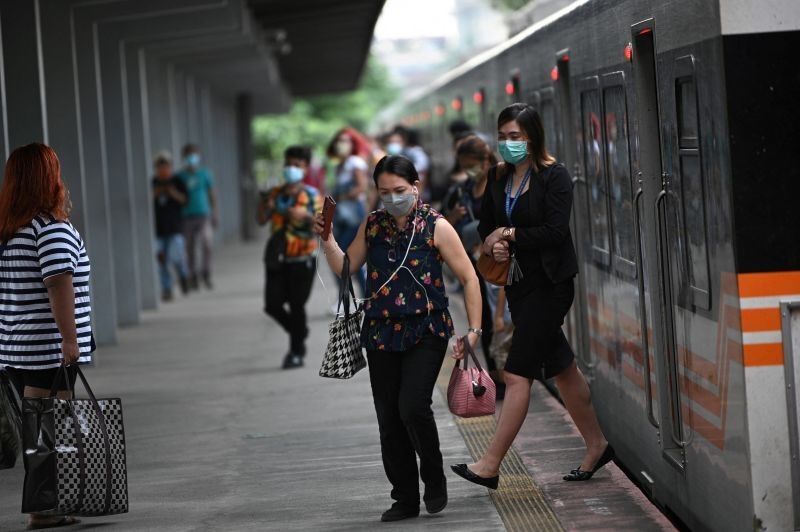 DOH: Government still considering return to 'New Normal' Alert Level 1 by March
Philstar.com
February 20, 2022 | 11:05 a.m.
MANILA, Philippines – As the number of cases across the country declines and the number of vaccines increases, the national government is preparing to move to alert level 1 or the "new normal", the chief of the One Hospital Command Center.
Speaking in an interview aired on DZBB Super Radyo, Undersecretary for Health and Treatment Czar Leopoldo Vega said the IATF would again consider moving to Alert Level 1 by the end of February. The Department of Health has since taken the position that the public will have to "move on and live with the virus".
"We are still reviewing the measures now and they are good, although they look good…under Alert Level 1 almost everything is normal but that doesn't mean the virus is gone," he said. said in Filipino, adding that the easing of restrictions still needs to be done gradually.
"If we are to be downgraded to Alert Level 1, we need to have flexible plans in case we are moved back to Alert Level 2… We need to have something like an 'infection forecast'."
As of this writing, 80.7% of Metro Manila is fully immunized. Vega, however, pointed out that only about 20% of the Bangsamoro region is fully inoculated.
"Our next goal is 80% of the population to 80 million by June," he said. "There are still some parts of Mindanao that are still difficult to vaccinate after Typhoon Odette."
Trend still down: OCTA
In a tweet, Dr Guido David, a member of the independent pandemic watchdog OCTA Research, noted that the number of coronaviruses in Metro Manila was "almost stable over the past 3 days".
"The numbers in the NCR are not coming down as fast as we would like…but that shouldn't be a cause for concern," he said.
The Department of Health reported just 1,923 cases of COVID-19 as of Saturday afternoon, of which only 392 were from the National Capital Region. "It shows the trend is still down," David said.
Of these, 74 cases were from Manila City while 67 were from Quezon City. Parañaque also had 41. No other metro city has breached 40 cases.
A number of Metro Manila's COVID-19 indicators – namely the reproduction number and healthcare utilization rate – were rated as "very low" on Friday.
It should be noted that the positivity rate as of February 18 presented a moderate risk of 6%, approaching the World Health Organization's recommendation of 5% for opening up economies.
Among the country's provinces and regions, Cebu and Davao Del Sur recorded 131 and 101 respectively. No other region had more than 100.
— Franco Luna
As it happens
LAST UPDATED: February 27, 2022 – 4:12 p.m.
President Rodrigo Duterte signs Executive Order No. 151 adopting the Alert Level System for nationwide deployment.
Under the order, the alert level system will be implemented in four phases.
Phase 1: NCR, Central Luzon, CALABARZON, Central Visayas, Davao Region
Phase 2: Ilocos, Eastern Visayas, Northern Mindanao
Phase 3: Cagayan, Bicol, Zamboanga Peninsula
Phase 4: CAR, MIMAROPA, CARAGA, BARMM
— Main photo: AFP/Ted Aljibe
February 27, 2022 – 4:12 p.m.
Metro Manila, 38 other areas will be placed under the most lenient Alert Level 1 or "new normal" from March 1, IATF spokesperson Karlo Nograles said
February 23, 2022 – 7:42 am
Metro Manila mayors have recommended lowering pandemic restrictions to Alert Level 1 by March 1, Parañaque Mayor Edwin Olivarez said.
The announcement came after it was determined that the capital region's COVID-19 positivity rate had fallen to 5%. — News5 report
February 14, 2022 – 10:46 am
Metro Manila mayors are urging the government's pandemic task force to extend the COVID-19 Level 2 alert status in the capital region until February 28.
In a resolution released on Monday, the Metro Manila Council stresses that "there is an urgent need to wait for an improvement in the risk classifications of the 12 local government units in Metro Manila that are currently classified as moderate risk."
The mayors are also warning that a less stringent alert level could lead to super spread events in the region during the campaign season for the May 2022 election.
January 30, 2022 – 11:51 am
Metro Manila, Cavite, Bulacan, Rizal, Batanes, Biliran, Southern Leyte and Basilan will be placed under Alert Level 2 from February 1 to 15, according to the government's pandemic task force.
January 10, 2022 – 3:29 p.m.
For Metro Manila mayors, escalation of COVID-19 restrictions to Alert Level 4 is not necessary at this time despite record rise in COVID-19 infections, Metropolitan chief says Manila Development Authority, Benjamin Abalos Jr.
Yesterday, the Philippines surpassed its highest number of single-day virus detections for the second day in a row, as the highly transmissible variant of SARS-CoV-2 Omicron would make the rounds.