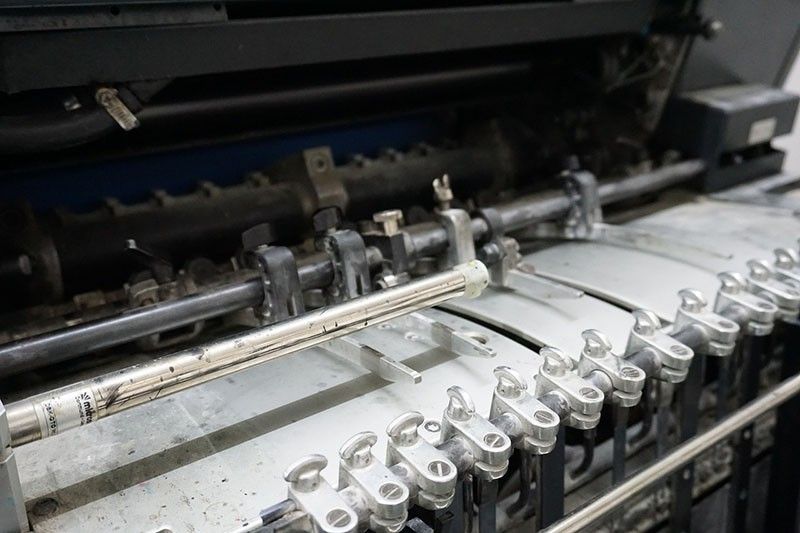 Hang on to Leftovers: The Printing Industry Struggles to Survive in the 'New Normal'
MANILA, Philippines – Without a doubt, the printing press has played a role in the life of a student, employee or anyone who has to submit documents and these views are not foreign to them.
But like any business, it has also been hit hard by the pandemic.
This is a rather special case for this industry. Printing is and always will be bound on paper, which in a sense puts it at risk of obsolescence in the digital age.
With virtually every industry gone virtual and paperless, the printing industry – a relic of the pre-pandemic era – is forced to rethink its ways while waiting for the day its machines will work overtime again to meet the deadlines of its customers.
Go online
For most of the Metro Manila-based printing companies, online services have been the preferred method. Key processes such as transmitting payments and communicating with customers are now carried out online or through mobile applications.
Ricky Regis, an employee of the Kooyah Copy Center along Asturias Street in Manila, said the new method has kept the business going.
"The operations continue because I have clients that I am friends with on social networks. So with that, transactions are done online, "he said in an interview with Talamitam.
"It's not completely successful, but it's okay anyway. The case continues. "
Compared to the old standard, Regis finds this new setup easier because it causes less stress.
"It's less stressful now. No one waits or comes rushing in, we don't have that anymore. These days you can take your time because orders are only picked up, "Regis said.
Like Regis, Sophie Ancheta and Rex Rodriguez are convinced that the online sphere has kept their printing business afloat.
"Good. Nice. It's good because that (online presence) has been a big help for us. The online services have been a big help for us and we agree for the moment" , said Ancheta.
"Since then, we have relied on online services. That's what really kept us afloat.
Adjustments
However, some printing companies have chosen to continue to operate only in physical stores.
Located along the university belt is Jonathan Labrador's printing press. Unlike other counterparts who already have an online presence, survival has been difficult for his business.
"Ngayon talaga medyo hirap yung business namin ngayon, so ginagawa namin para maka-survive talaga, kahit ano na lang na maging client namin na impression, yun, pinapatos na namin [Our business is struggling right now. So what we do is that we don't become too picky with our clients anymore when it comes to printing]," he said.
Other print shop owners keep their businesses alive for love.
Mario Canales, owner of a store in Binan, Laguna, said his business had remained "fairly normal" even though it had lost its regular customers like students, who now take courses online.
But unlike some of his peers, Canales gives himself the luxury of not depending on his business to support his family.
"Compared to the last time before the pandemic, my quote to date has remained the same. This is because our business is no longer for profit, it is more of a past time. We don't need to send anyone to school anymore because our children have already finished their studies, "he said in an interview.
Canales has gotten to a point where their rates have been inconsistent. According to him, the rates have been lower, if not free, rather than his standard P5 per page rate.
But some printing companies are not so lucky and have completely shut down.
Several traders and local residents were only able to report a few areas where there are still operating printing shops, such as Morayta in Sampaloc and the town of Carmona proper in Cavite, south of Metro Manila.
New environment, new struggles
Naturally, a new environment brings about a new series of struggles.
For these printing companies, facing financial constraints is a common denominator.
"Our main struggle now is to reach the quota. We pay so much rent that we really have to meet that quota, "Rodriguez said.
"There are a lot of changes especially in terms of income, then there are several layoffs because of this income problem," he added.
Labrador echoed a similar sentiment.
"We're struggling to pay the rent right now. Back then, you know, we could hit the quota. But now, earning P500 a day is already difficult. Of course, there are essential expenses, so we only earn P500, "Labrador said.
"At the time, we were making about $ 2,500. Now we are struggling to earn that much.
But the changes caused by the pandemic were not limited to lower profits.
An unusual silence gripped print shops as pandemic restrictions forced schools to adopt a virtual learning setup.
"At the time, we would just ask the students to approach us, and then we would ask them to go to our store upstairs. We were also able to get customers because we stepped up our service, "Labrador said.
"Of course we got used to it (silence). What was considered abnormal at the time is starting to become normal, "he added.
Labrador, Ancheta, Regis and Rodriguez were initially shocked at the "new normal" they hoped wouldn't stay for long. But for now, they have no choice but to find ways to deal with their losses.
"At first it was boring. But now I'm getting used to it because I'm already busy with work, "said Régis.
But while they have their struggles, all hope is not lost for these people.
Moving forward
Realizing that the pandemic is not likely to end anytime soon, some print shop owners have started to expand their businesses.
Ancheta and Rodriguez are now selling items such as perfume and face shields to increase their income.
Ancheta said his new business got him back on track financially after a difficult start due to the pandemic.
"In fact, we sunk badly. You have no choice but to pay for your store. Even if there is no income, you still have to pay, so our business really went down. But when we got to think about new businesses, that's when we started to recover, "she said.
Rodriguez sees his additional business as a way to return to pre-pandemic income levels.
"Since the start of the pandemic, so many things have been added to our store, like face shields and face masks. We also continue to think about other ways to increase our income so that we can earn money like before, "he said.
Labrador began to accept orders such as ID cards and PVC cards to survive.
"Kahit yung dati na di naman namin pini-print eh pini-print na namin, katulad ng mga sa ID, PVC [polyvinyl chloride] [cards]. Kasi dati hindi namin kaya gugulin yung oras noon eh, my priority namin yung impression ng mga estyudante. Eh ngayon eh wala kaming client, yun yung mga tinatanggap namin [Even the ones that we didn't do, we do now already. Examples would be IDs, PVC cards. Before we couldn't afford to do that since they take so much time and we prioritized students' requests. But now, we do not have a lot of customers, so we accept that now]" he said
However, some printing business owners have stuck with their printing business, with little or no alternatives.
While profit is no longer Canales' main consideration in keeping his store, he admitted he was considering new business ventures.
"My plan at the moment is to continue. But then, like you said, a lot of people started having their own printers. If that's the case, then maybe I could start looking at different companies, "Canales said.
While there are no signs that things are going to get better anytime soon – the Philippines has recorded more than 20,000 new cases daily in the past few days – printing business owners are not giving up hope.
"Huwag mawalan ng-asa pag dating his business. Ang tumal, hindi inaayawan, tinitiis [Don't lose hope when it comes to business. You endure a sales drought, rather than give up on it]Labrador said. – Talamitam
—-
This article is a production of Talamitam, a network of schools created in 2017 by the journalism companies of the University of Santo Tomas, the State University of Bulacan, the Colegio de San Juan de Letran, the Lyceum of l University of the Philippines, Polytechnic University of the Philippines and University of the East. Talamitam aims to empower ordinary citizens through community journalism, focusing on topics not commonly reported by mainstream media and alternative angles of current issues.
To achieve its goal of raising public awareness of community issues, Talamitam publishes articles in the media. News agencies can use or republish the stories for free provided they give credit to Talamitam and the authors.
Talamitam is a Tagalog-Kapampangan word for conversation.