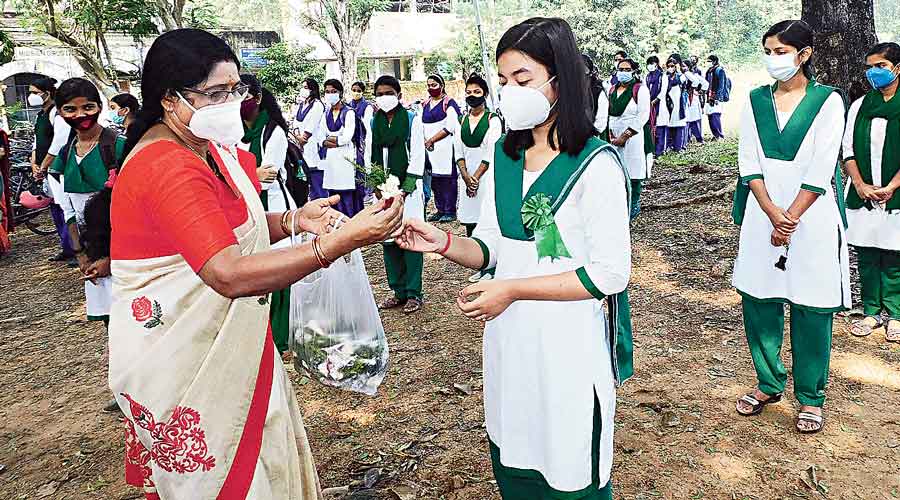 School and college students open a new chapter in a new normal
In some districts of Bengal, rural schools registered better attendance compared to those in urban areas
---
|



Posted on 11.17.21, 03:02 AM
---
Bengal schools and colleges reopened on Tuesday after a 20-month hiatus due to the outbreak of the pandemic. Students in grades IX, X, XI and XI were allowed to resume physical classes by adhering to strict safety protocols prescribed by the state education department.
The telegraph visited several schools in the districts to see how the schools were doing on day one.
Presence
In some districts of Bengal, rural schools registered better attendance compared to those in urban areas. Teachers in rural schools in 24-Parganas South, 24-Parganas North, Nadia, Murshidabad and other districts said this was largely due to the lack of online facilities in rural areas. Due to poor internet connectivity in remote parts of the state, these rural students have been denied online classes.
The students were admitted inside the campus at 9:30 a.m. after everyone's temperature was taken. Each student's mask was checked and their hands were also disinfected before entering the classroom.
Harihar Gadadhar Vidyapith of Namkhana in South 24-Parganas recorded 80 percent attendance. In contrast, only 43.5% of students attended Bolpur High School in Birbhum.
"We were expecting even higher attendance as students rely solely on offline classroom education in this remote region," said Indranil Pradhan, principal of the Namkhana school.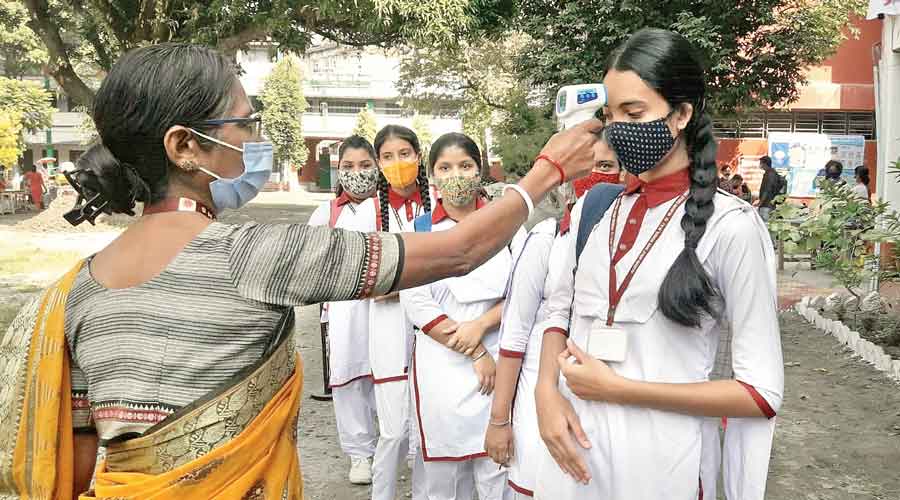 Pradhan's counterpart at a high school in Haringhata, Nadia district, Santanu Mondal, said: "Many students in rural areas help their parents in the fields early in the morning. They may have struggled to show up to school because of the new schedule. "
Teachers in urban schools claimed that the hybrid mode of online and offline lessons contributed to lower attendance. Students in urban areas have had more or less regular access to online education.
covid protocol
Schools have tried to adhere to the state government's Covid protocol, but seating arrangements due to limited infrastructure at many schools have raised questions. In many schools, three students had to sit on a bench in violation of physical distancing standards. Enthusiastic students also freely mingled with each other during the tiffin break. "It is impossible to consciously avoid closeness with friends," Soumya Chaudhuri, a class XI student, told Nadia.
In the colleges, the discipline was even softer.
At a college in Birbhum's Rampurhat, students coated themselves with abir in violation of the Covid protocol. In some colleges, students complained about the lack of disinfectants and thermal scanners when entering the premises.
Outside the campuses of many schools and colleges, parents have been seen eagerly awaiting their children, but most did not bother to wear masks or maintain physical distance.
welcome gesture
In several schools, the return to campus after a 20-month hiatus was marked by welcoming gestures from the teachers. Teachers and officials from some schools greeted students with roses, pens and candy.
Teachers at Bankura Mission Girls School greeted the students with flowers. "Students are like our children. It was a great feeling to see them after such a long time. So, we decided to offer them treats arranged by teachers, "said the head of a school in Basirhat in northern 24-Parganas.
Student organizations, including SFI and Trinamul Chhatra Parishad, greeted the students with masks, hand sanitizers and wet cleaning rags.
Feeling of return
Almost all of the students said they were delighted to be back on campus. Puja Nandi, class XII student of Dighalgram Netaji Vidyapith, said: "It is a great feeling to go back to school. I've missed it a lot over the past 18 months … it's really like a reunion. I hope that the schools will continue the lessons as before the pandemic. But I would have been happier if the government organized the vaccination of all students before opening physical classes. "
Sajal Choudhury, father of a student in Nadia, agreed with Puja.
"Covid's security arrangements looked good on day one. But I doubt that such facilities and such severity will continue. It would have been better if all students had been vaccinated before the opening of physical classes.
Tragedy strikes
Locked in their homes for 20 months, a few students from Phulia Sikshaniketan to Nadia decided on Tuesday to take a bike ride along the banks of the Hooghly instead of going to school. But the joy of class IX pupil Biprajit Garai, 16, and his friends did not last long as he disappeared while bathing in the river at Krittibas ghat in Phulia.
Biprajit, a resident of Pareshnath Para in Phulia, could not be found until late in the evening.